The following are the lists of Items with photos developed and distributed by the innovators of National Innovation Center free of cost for Covid – 19 Responses from March 2020 to May 15, 2021. Our innovators at the national innovation center are still working 24 hours for developing and distributing to the hospitals and health workers in 59 districts of Nepal. Now, we are trying to get as many oxygen concentrators as possible to distribute to the people living in the rural areas. Please have a look at this video for more information:
Personal Protective Equipment (PPE) for health workers/security people – 41,200 produced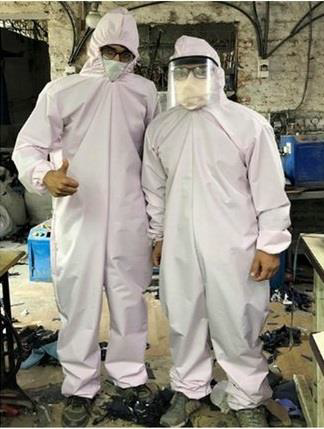 2. Face Shields to protect the face of the health workers from aerosol – 28,700 produced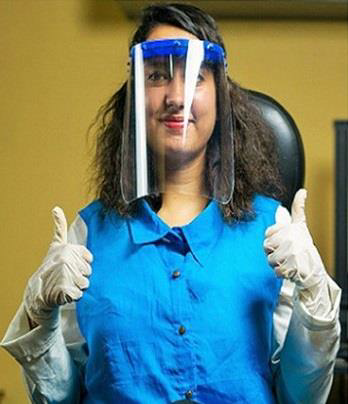 3. Powered Air Purifying Resuscitator (PAPR) for doctors in ICU and Covid ward: 102 produced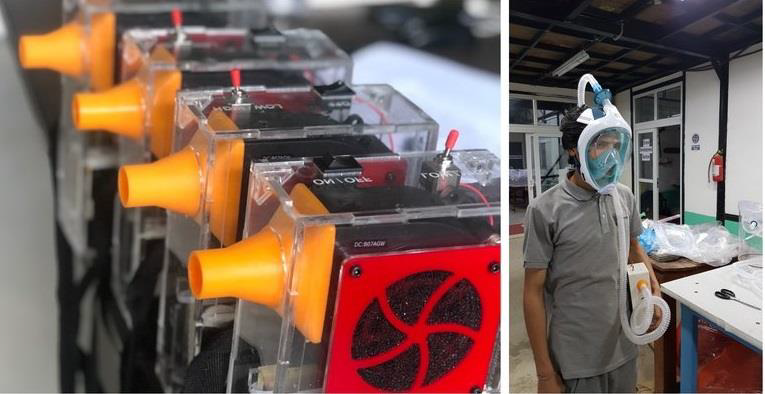 4. Isolation hood for Covid patients under treatment in ventilator: 165 produced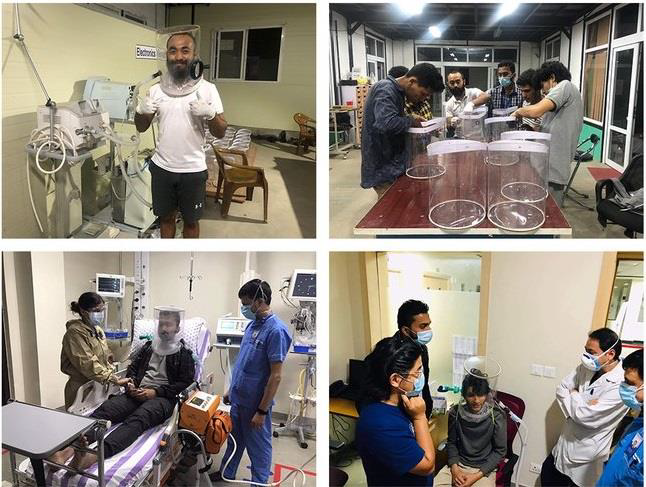 5. Shielded bags to put dead bodies to transport to cremation ground: 205 produced

6. Isolation Chamber to transport patients in ambulance and helicopter: 25 produced

7. Nursing Robot to deliver food and medicine in Covid Ward: 6 produced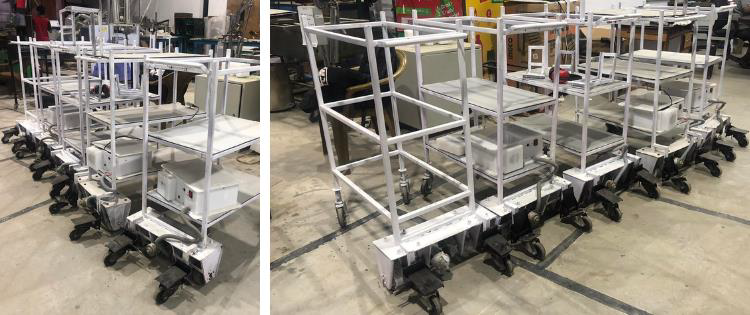 8. Covid Swab collection booth with positive pressure inside: 78 produced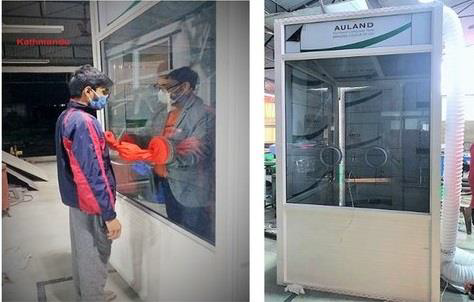 9. Aerosol Boxes to protect the health workers from aerosol: 37 produced

10. Disinfection Boxes to disinfect masks and medical tool using Ultra-Violet C : 29 produced

11. Ventilator under development in collaboration with Stanford University research lab. It is under clinical trial now.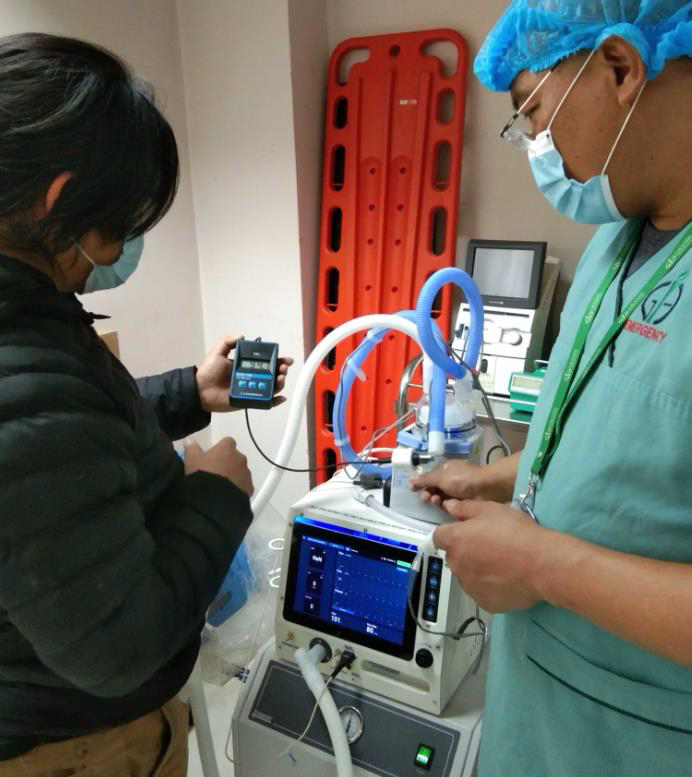 12. Splitter for oxygen tank to provide oxygen for two patients – 168 Oxygen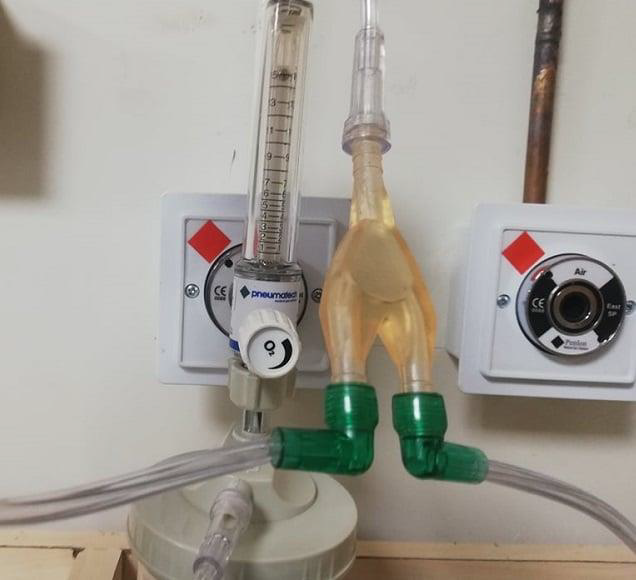 13. We are planning to buy 150 oxygen concentrators and 100 oxygen cylinders soon.
Other than developing and producing the above mentioned items for Covid Response, National Innovation Center also helped to do the following works.
Distributed CiPAP machines donated by Prakash Lab of Stanford University – 42
Distributed BiPAP machines donated by Prakash Lab of Stanford University – 4
Distributed Snorkel masks converted to Pneumasks donated by Stanford University – 192
Distributed Viral filters donated by Prakash Lab of Stanford University – 3,000
Helped to repair ventilators of different hospitals – 42
Helped to repair oxygen concentrators of individuals – 25
Helped to repair Kidney Dialysis Machine of different hospitals – 18
Helped to repair Oxygen Plants: 3
Summary of Funding received during the Covid-19 pandemic:
Donation Received from Nepalese supporters from different countries and districts of Nepal from March 24, 2020 to April 30 2021 in the bank accounts of National Innovation Center is as follows:
Money Received Himalayan Bank Limited = Rs.17, 938,851
Money Received in Global IME Bank Limited = Rs. 28, 811,019
Cash Received directly at the innovation center = Rs. 3,505,749
Total amount received as donation Received in Nepali Rupee = Rs. 50,255,612
Money donated by Friends in the US to buy Covid Response equipment = Rs. 7,572,620
Money donated by friends in Japan to buy Covid Response equipment = Rs. 2,130,000
Total money received from donors until April 30, 2021 = Rs. 59,958,232 (~ USD 511,620)
Money Received Himalayan Bank Limited = Rs.17, 938,851
Money Received in Global IME Bank Limited = Rs. 28, 811,019
Cash Received directly at the innovation center = Rs. 3,505,749
Total amount received as donation Received in Nepali Rupee = Rs. 50,255,612
Money donated by Friends in the US to buy Covid Response equipment = Rs. 7,572,620
Money donated by friends in Japan to buy Covid Response equipment = Rs. 2,130,000
Total money received from donors until April 30, 2021 = Rs. 59,958,232 (~ USD 511,620)
Mahabir Pun Chairman, National Innovation Center ( https://nicnepal.org/) Mobile/Viber/WhatsApp/Wechat +9779841592361 Email: mahabir@nicnepal.org