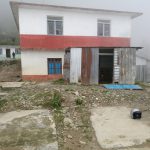 10/2016 – Seti Bhumey Higher Secondary School is located at Ramche, a village in Rasuwa district, one of the undeveloped districts of Nepal, which capacitates 350 students coming from nearby villages. The students obtain quality education from the school but amidst fear and insecurity. Reasons: 'fragile school buildings' and 'acute lack of proper toilet facilities'.
"Before April 25 earthquake struck, there were 8-roomed toilet structure equally separated for students (males and females) and school's staffs. But when the earthquake struck, the school buildings developed major cracks, while the entire structure of the toilet were reduced the rubble. However, we constructed a temporary toilet using zinc roofing sheets. Since we could not invest much, the installation of sewer pipes got leaked within few months, while the walls of the toilet made from the roofing sheets developed cracks and holes.
Another problem surrounding the assurance of hygienic toilet is the lack of water. Gallons of water flows from the uphill but only in rainy season that last for 2 months. In dry seasons, water dries up and hygiene management become difficult.
A water reservoir is located uphill, some 1 and half hour ascend away, and it is impossible to fetch water for everyday use. Had there been a water pipe installed, and had there been 2 to 3 water tanks that could accommodate 200 liters of water each, it would have been water better in ensuring hygiene and sanitation."
Devendra Raj Devkota, Principal of the school
"After the earthquake, temporary toilets were constructed but within days, strong wind that usually blows in this Himalayan region, blew away the toilet covers. Students and teachers, especially females, are bearing the brunt of it.
Girls face the most difficult situation when they have to urinate or defecate because the toilet does not have even a door to lock. Besides, girls face much difficulties during menstruation. As the toilet does not have a door to lock and does not have sanitary pad disposal bins, along with other girls-friendly toilet facilities, girls prefer not to change their sanitary pads, instead, attends half school and class hours, and leaves for home only to return the following day. Thus, school absenteeism is very high among female students."
Sita Bhatta, Science Teacher.
"Despite the village is announced as open defecation free zone, we are compelled to urinate or defecate in open areas. There has been instances where outsiders have scolded us after them finding us defecating in the areas near to their houses. In the absence of the security-ensured and girl-friendly toilet, we are deprived of personal privacy and hygiene management."
Reshma Tamang, Class 10
"During menstruation, we have to change our pads in every 6 hours, but since we do not have girl-friendly toilet, we go back to our houses without attending all the classes."
Preeti Tamang, Class 10
"After the earthquake, various I/NGOs came to our school to distribute stationeries but no one attempted to construct toilets for us. During menstruation, girls do not attend all the classes and return to their homes after lunch break because changing their pads is not possible in the toilet that does not have door to lock. Even for us (boys), using the toilet is not safe because it does not have doors to lock. So, we do to the toilet in a group only to help each other in securing privacies. A proper toilet has to be construct immediately."
Khamsung Tamang, Class